Christmas, I mean! It has been hectic, but pretty productive this year, ironically. But, thank God it's over. Too much to do! I forced alot on myself this year...something about feeling productive and finishing something other than taking care of babies all day kept me motivated. I actually even baked a cookie or two! That didn't happen last year...and since the monkeys will be mobile next year, it most likely won't happen then either! On the subject, I was having this discussion with someone the other day about Christmas cookies...why do we make them? It's funny, because we all must like the ones we make...and then we trade them all away for someone else's favorites! We sometimes get a few new favorites in the swap, but if we like them that much, we may even add them to our own list for the following year! I say, give the good wishes, still make the cookies, and in the spirit of the holiday...keep them all to yourself! ;)

The kids were cute on Christmas Day; just learning how to rip paper, we had them unwrap a few gifts. Just like the dogs, at the moment they are more mesmerized with the paper than the present. Oh, well! That will change soon enough as they learn to collect and hoard toys. We headed to both in-laws for both days and snuck out before the chaos of the evening began! (We always have to be home every night for the scheduled solids/bath/bottle/bed routine by 6:30 no matter what day it is!) So, it made for a bummer of an evening (same old, same old) considering it was Christmas Eve and Christmas night! We keep telling ourselves that we just have to get through this first year and we will be able to reclaim our nights again. Here's to next Christmas!

New Year's was uneventful as well, but I have to give kudos here to Mike's parents, who have been exceptionally attuned to providing us with "normal moments" whenever they can. They always do little things for us here and there and provide us with creature comforts...like fresh baked cookies or other comfort foods - vitamins to keep us strong, stories to keep our life in perspective! Having them around is like getting a nice big hug right when we need it the most. So, they brought over an amazing prime rib dinner for all of us to share after the kids were down for the night...we had nice placemats, candlelight, great conversation and it made the holiday special...especially considering that we might have just shared a box of mac and cheese and called it an early night! ;) Thanks Mom and Dad Ertel...you guys are the best and an oasis in our desert right now.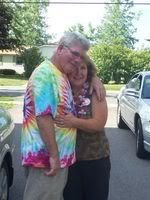 Mom and Dad Ertel (Grandma and Papa)

Hope you all had a wonderful holiday season!