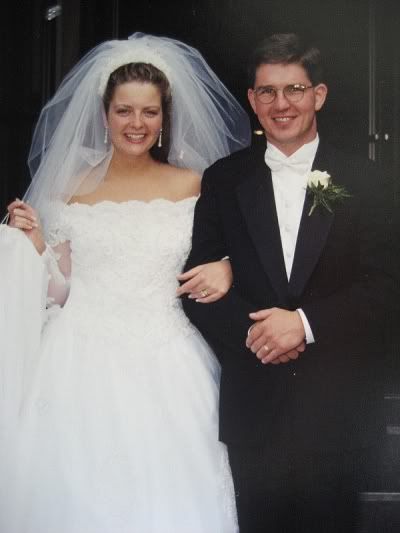 10 years...where did it go? 10 years ago today, I married an incredible man – though I didn't really understand how lucky I was at the time. I was caught up in the courtship phase, the tingling happiness, full of butterflies and laughter and fun. Life was good; high on the promise of an incredible life together. Little did I know that the first year would be so hard for us, so hard to live together and mesh our lives seamlessly; what each of us brought to the table: the baggage, the life experiences, the habits, preferences and traits - and BOY did we clash for a while…but eventually we came to realize that this is what life is all about, what marriage is all about – the BIG compromise.
I have loved journeying to find out that we are even more perfect for each other than we ever knew possible… compatible in almost every way, and the ways we aren't we have learned to compromise or even complement one another [ie, the slob(me) vs the organizer(you) and the relaxed(me) to the uptight(you)]. I love that we make each other better people; you make me want to be more, every day! I have learned oodles about myself through you and I hope the feeling is mutual. You have changed me (in a good way!) in almost every definition of the word -you could say I feel more… evolved; definitely more alive. We fit together like puzzle pieces – and dare I say it? It's total cheese, but you do – "you complete me." We have found in each other just that which our souls were missing.
I love that we share the same non-political views, that we see more in animals than most people do, and that we can relish a sci-fi (Enterprise, Stargate!) or James Bond marathon. I love that Christmas brings out the extreme kid in both of us. We share the love of our beautiful kids and want to be that "Amazing Ertel Parenting Machine" we always talked about being for them. Our goals for the future have often aligned without much effort and now we share that in raising our sweet babies.
Other things we share a love for: long walks in the quiet woods, Mrs. Angelina Jolie and Mr. Brad Pitt, being considerate people and making others happy, super good ice cream, water anywhere, movie nights, the stars and space and the cool things humans do, being spontaneous when we travel, the giggles and smiles and laughter of our children, the color blue, Mr. Dean Koontz, (your mom's)almond puff, being honest and downright good, cool technology, the Brantingham screen room, thought-provoking comedy, Phil Collins, slab bacon and our awesome families. Just to name a few. We are both geeks, and that makes me incredibly happy. J
You appreciate the world around you and the impact you have on it, good and bad – and I love that about you. You are caring and considerate, kind and unselfish, a good friend, family member and husband; always giving. You are hardworking and careful, smart and sensitive and philosophical – you have learned to step back and realize that there is more than one perspective in every situation…all this you have taught me and more.
I think back with a laugh to our first date full of mishaps – an awful movie we didn't want to see, the right side of my face, numb from a visit to the dentist, numb almost all night, and you thought I was mad at you since I didn't smile much, then your good tools stolen right out of your car….but that first kiss later, in my parents' living room, during the endless playing of the same movie (Only You) was….*sigh* - I get butterflies every time I think about it. I think it took us about 2 hours just to get to it, we were both so nervous! Silly now, but a very, very sweet memory. And here we are...3 beautiful kids later, so much we have gone through; so much love, some loss, but much happiness….so much we have learned about each other and so much more to learn… Again, life is good: but now we are high in the act of living an incredible life together.
I can't think of anyone I would rather be with, to "grow old with" and watch our babies flourish before our very eyes. This is our life! And it makes me so happy to be here in it with you, forever. Our souls were imprinted onto each other long ago and we were lucky to have made the match, even before knowing how perfect the match was going to turn out to be. Everyone should be this lucky! You are stuck with me forever, baby!
Happy 10th, my sweet... you are my "dream" man.