This was somewhat of a major milestone for our little guys and gal, so I am posting this even though it happened a while ago!

Since the kids are getting therapy to help reach their developmental milestones (to help catch-up, really), we had been getting advice on when they should be getting shoes, what kind would help them, hinder them, etc... So, the advice garnered was to find the old fashioned kind of baby shoes...the cheap, ugly (but great, apparently!) old, plain baby shoes. Thinking they should be easy to find at a major retailer, I set out to find 3 pair. Well, wouldn't you know, they were impossible to find! I searched for weeks, with the urgency of needing shoes and their first birthday impending, I was coming up with absolutely nothing.

Lucky for me, I had an ace in my pocket! Actually, that makes it sound like I planned what happened next, but it was sheer luck and love from our wonderful family. My mother-in-law had decided that since the kids all had very wide feet (the Ertel feet!) coupled with the fact that they needed good stability in their first shoes, her and Dad Ertel wanted to get the kids Stride Rite shoes for their first birthday. Wow! I was thinking, what an awesome gift!

We set out a week before their birthday to the mall, hoping to find a good pair of walking shoes for all three. I was a little worried how expensive they might be, after all, Stride Rite was a great quality brand, but pricey. I didn't want Mike's parents to spend so much money on something so transient!

We arrived at the crowded mall, Mike's dad proudly rolling the stroller through the masses. Up in the elevator, the "oohs" and "ahhs" and "how do you do its" abound.

Proud Papa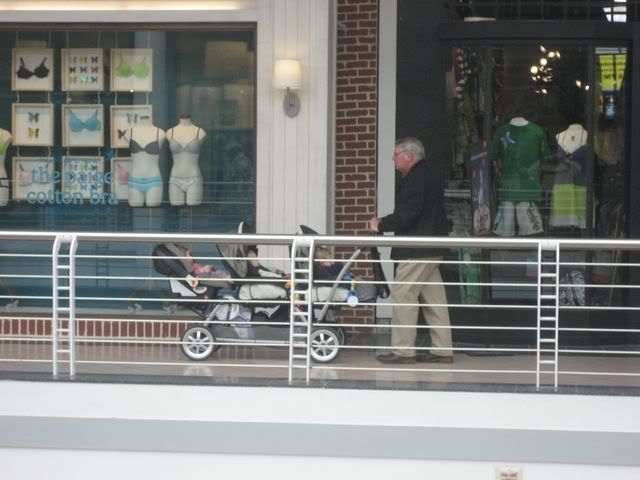 We make it to the itty bitty Stride Rite, only to realize that our massive stroller doesn't fit into the store with so many people surveying the shelves. We laughed a little and went in to "sign up" for a fitting. So many customers, we had to be put on a waiting list. Yikes! The moment of truth had finally come...the price check.

Waiting our turn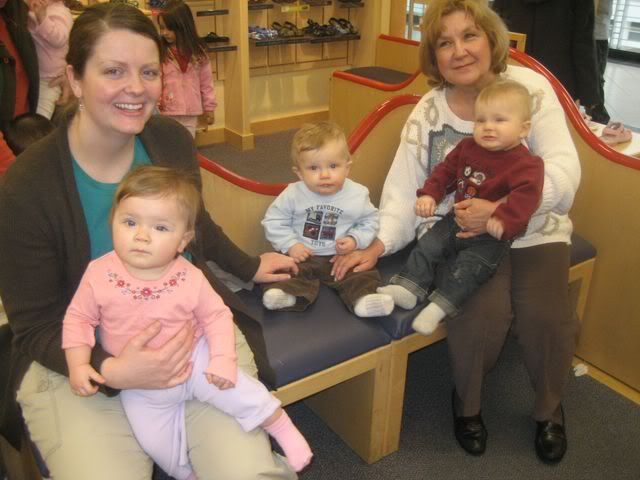 Picking up the first shoe I see, my mind is screaming at me, but I keep these few thoughts to myself. If anyone has ever shopped for or for a moment even been in a Stride Rite store, you know just how expensive a piece of leather can be. It is downright sickening. Did they have to strip the leather from a rare baby cow in Istanbul? How can they be this expensive??? Now, I am a girl of simple things. I like garage sales, consignment stores, freebies. In other words, I am seriously cheap. I just about fainted when I saw the price of the first pair I picked up! Simple, plain white baby "prewalkers". $22 a pair. Times 3. Whoa! For shoes they will grow out of faster than you can blink! I need to sit down. Then I picked up the next pair. Holy Moses! $48 freakin' dollars! WHAT?! I felt like I was going to throw up, casting away any social pressure to dampen the shock and disgust I was feeling at that very moment. Eyes wide with shock, squealing at Mom Ertel in protest.

I kept asking...are you sure you want to do this?? I was worried before we even left the house that this was too much to spend, and now that I know the price was more than double what I was expecting, I felt immeasurably guilty. Sweat beading on my forehead... feeling queasy in my affluent surroundings. Looking around at all of the other patrons who were purchasing 3 or 4 pair for their 8 year old kiddos...just because they liked them. Not for the merit of quality shoes to help them learn to stand and walk (what I am telling myself is the only reason we are buying!)...just because they were cute. Heck, if I could afford everything I thought was cute, I'd also be able to afford 3 nannies and a summer home in Southern France. Sign me up!

I was whirling with the thoughts of so much money and the envious people watching when we were called to be fitted. A nice lady helped us to learn the sizes of our babies with the standard foot measurement gauge. The boys, we already guessed, were a Size 5, Triple E width. I had no idea a foot could be that wide! On top of wide, they are also thick and puffy on top, making for a difficult fit.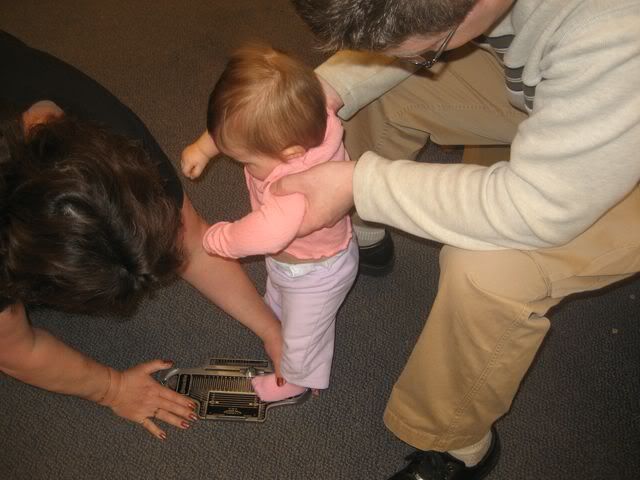 So, she gave us our options for our wide foot boys, which were a whopping two different kinds. White or blue. Wow! I guess that made our job easier, though! I was getting a little nervous about the choice, since they have so many kinds of shoe. Besides different colors and styles, they have velcro or laces, prewalker, standing and walker! Can't they be all things for that price? I wanted to ask this question so badly, but decided it might sound a bit belligerent and bitter. So, I held my tongue and chose white for Cole and blue for Braden.

Braden, showing some leg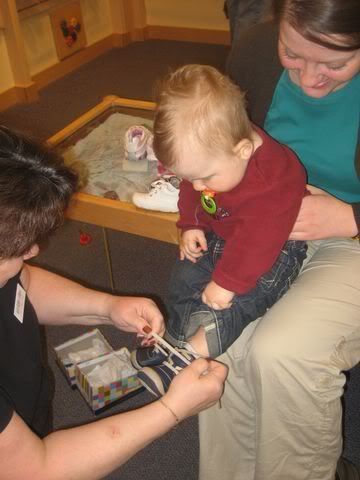 My new blue shoes!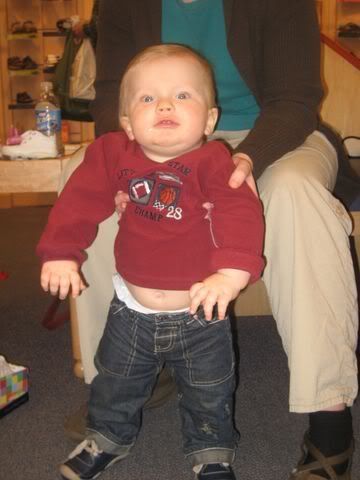 Cole's turn



Showing off his new white beauties...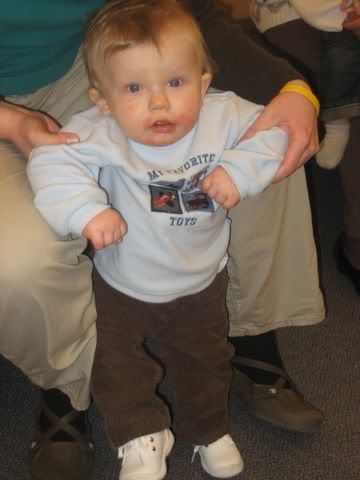 Grandma, wrangling the other two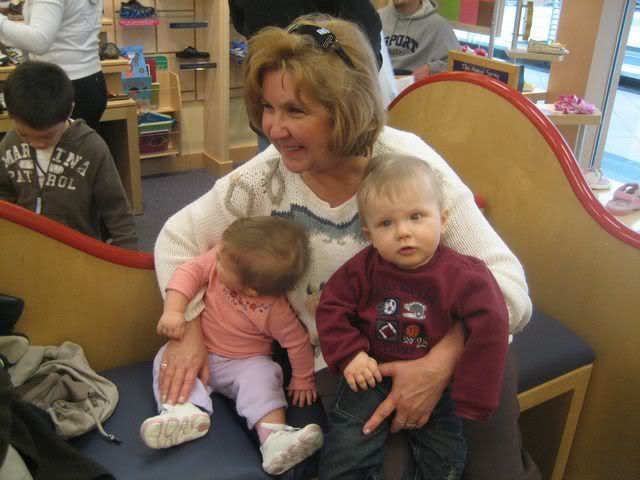 The beaming boys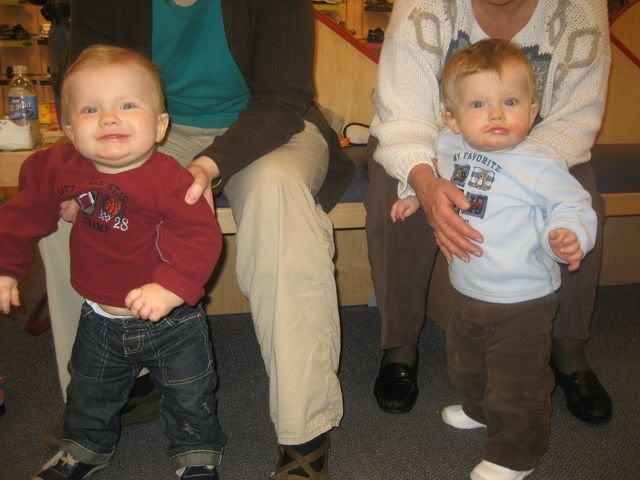 Alex, on the other hand had normal feet! My family's feet are nothing but normal, so we will see what happens as she gets older. The boys already got the Ertel Foot Curse, so Alex will most likely get stuck with the Collins Foot Curse. lol... Big feet, big toes, and lots of problems. Let's hope she stays the way she is now! We chose the darling white with pink flowers. So cute.

Princess in her White and Pinks



All in all, it was a very productive day...the kids love their new shoes and so do the therapists. The kids love to play with each other's, perhaps thinking that these are the newest toys of the month! The shoes do help them stand more surefooted and flat, give them more balance and challenge them to deal with them as they crawl. They are a wonderful investment and should last them the whole summer. Thank you Mom and Dad Ertel for this wonderful gift! We are truly grateful for this offer because it is helping the kids so much with their progress and it is something we would have never been able to do for them. And they are so darn cute!

Grandma and B



Papa and B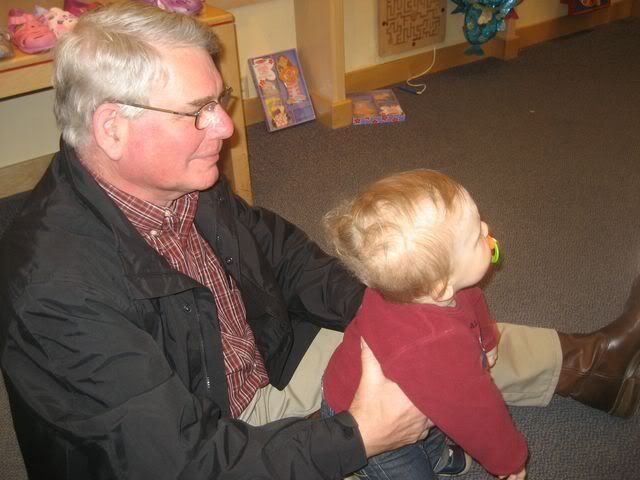 Grandma taking a picture of Cole and Cole!