It's not every day you see your children in a police car and laugh about it! Unless they are the one driving the car, it's usually a bad thing. But, I'll get to that in a minute!

We were at the Italian Festival last night, yummy smells wafting on the air, everything from Italian sausage smothered in sauteed peppers and onions, fried ravioli and stuffed hot banana peppers wrapped in a salty, baked dough. So good. The gooey pizza, the overstuffed cannolis sprinkled with chocolate chips, the steak sandwiches loaded with melted cheese, mushrooms, onions and peppers - this is why we live in Buffalo! This is why we put up with the never ending slushy winters and the lame waterfront development. These summer food festivals make it all worth while. The artery clogging good times are what make us proud to be Buffalonians!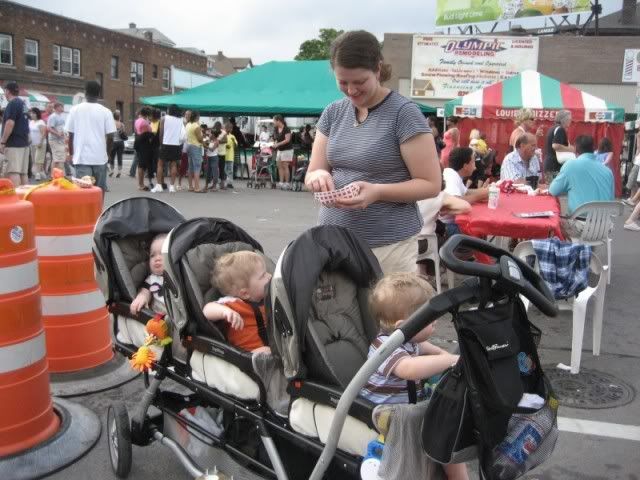 We fed the kids a few firsts last night, breaking them into their glorious heritage.
Hey, they get hummus and ground brown rice cereal every other day of the week, so a splurge was in order! First, dessert! They sampled a delicious (and egg-free!) strawberry gelato. Cold and extremely satisfying on a hot day. Then came an ooey-gooey, super-thick cheese pizza from Campi's, a fantastic representation of this essential festival food. They loved it, snacking down bits as we walked around scouting for more. Next, we gave them the basic Italian sausage link, with a few peppers thrown in for more flavor. They thought it was so-so, I think, since they were paying more attention to the crowd than the food. For anyone that knows them, this is a big indicator that they are not in love with it. They drank their milk, alot of water, and with the food already in their belly, they seemed done for the night! We bought a few cannolis, an absolute necessity, even though the price was somewhat disturbing this year. $4.50 for one tiny cannoli! Crazy. We bought 4.




We snuck back to the car to enjoy our delicious desserts and see how the kids liked their first taste! We put the kids in the back of the truck so they could stretch their legs and play a bit before leaving while we set up the feast. We bought a cannoli just for the kids to share and we figured they would devour it, looking to us like little mooching puppies for a share of ours...but I think they were so full, they weren't even interested in a bite! I had to practically force feed a finger-full to each one of them. I wonder now if it was too sweet for their palates? They haven't really had anything like it yet, I am a little gun-shy about introducing sweets, since it just starts the proverbial ball rolling... They grimaced, and puckered and smacked...and eventually wanted more...but just a tiny bit - the little tummies were full, so it was time to stop eating for today.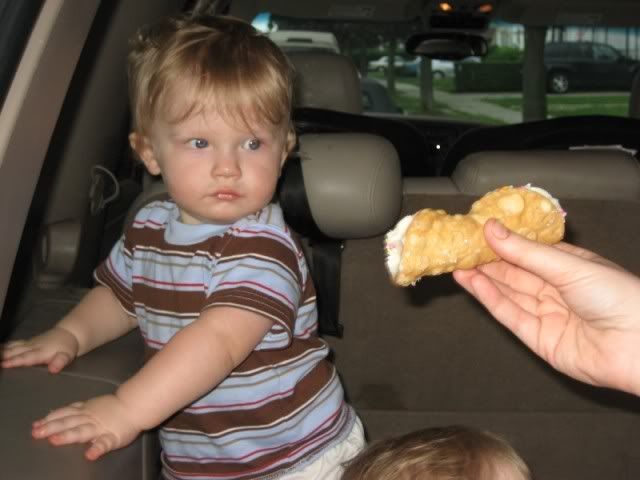 Ok, back to the police car...

Before we purchased the cannolis made of gold, we had an interesting and memorable encounter with the Buffalo City Police. Eating our own dinner on a barrel in front of one of the squad cars, an interested policeman came up and asked if "they were triplets?" "Oh My God! That's amazing", he exclaims. He thought for a second and asked the kids..."do you want me to turn on the lights? That would be fun!" We answered for them with a resounding yes...Braden bug still loves lights - he is enthralled and mesmerized by them anywhere we go, even Target, go figure. So, he put them on, the red beacons spinning for our kids' amusement. Pretty cool of them.




Looking like he had a spark of genius, the cop then asks if we would like to take pictures of the kids in the car, in the front seat, holding on to the steering wheel... We were a little taken back, "ummm...ok...?" It was a little odd! But we recovered from our awkwardness and said of course, we would love it!

They were grinning and laughing already (the cops, I mean!). Cole was first...he loved it, no hesitation - he was funny, bouncing up and down in their seat. Mike took a picture from the side and then through the windshield. Too funny.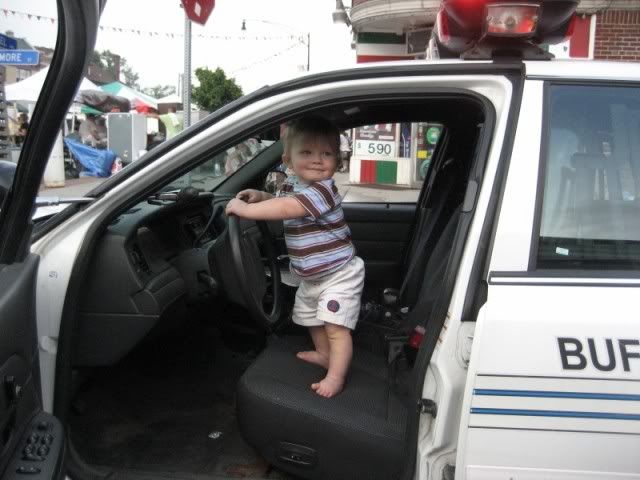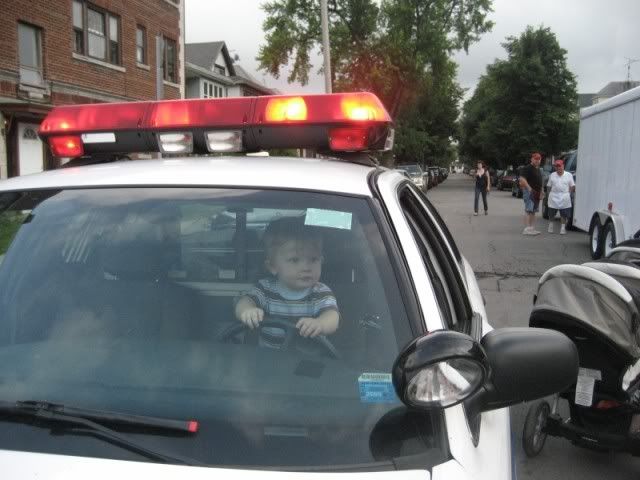 B-Man was next, loving the lights, he goes in and gets his photo op. He smiled a bit too - I think he liked it!



Then Alex's turn - she was hilarious. She started to giggle, and giggle - she thought it was the funniest thing...looking around the whole car, the nosy rosy that she is, every time she did a sweep of the interior or caught our eye, she would laugh. Then she realized that we were all staring and laughing at her being so cute...and that set her off even more..you know how she is with attention! The more, the better! We were a captive, adoring audience.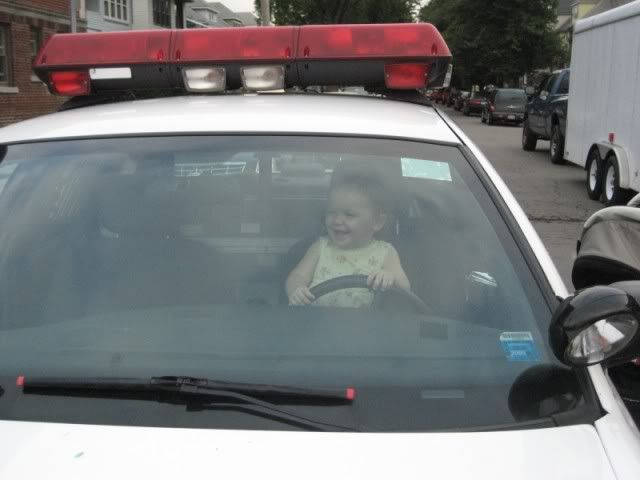 Then one of the cops showed Braden, who I was holding, his handcuffs. A new toy! He instantly grabbed them, but they are a lot heavier than they look, so he had a hard time holding on to them. The policeman asked if he would like to have them put on him! Ha ha! I couldn't stop laughing! My son is 15 months old and already in handcuffs - this has to be a record for the youngest and cutest apprehension. He looked adorable and was giggling hilariously.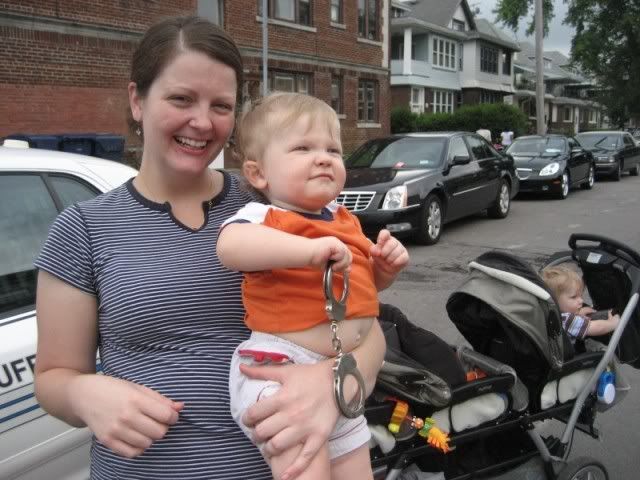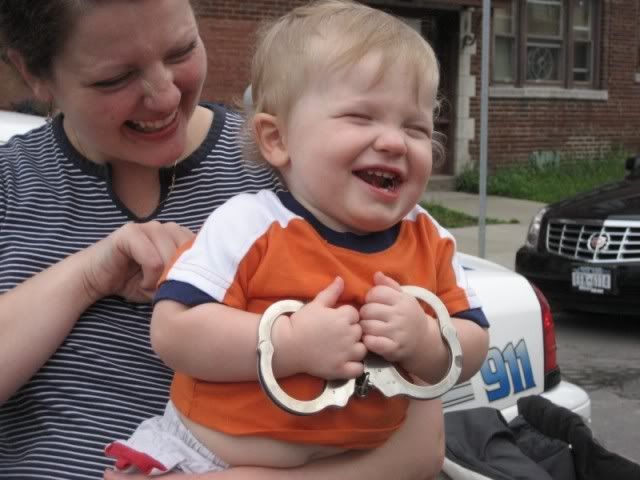 It was all too funny, and a great memory for us - I can't wait to show the kids when they get older!! Maybe it will scare them out of future trouble... ;)