Their first vacation. A Momentous Occasion!

Armed with a truck full of supplies, including a duffel bag just for diapers, we head out the door last week to visit my parents in the 1000 Islands. My childhood vacation spot, I was eager to introduce the kids to "The River", as we affectionately call it. The St. Lawrence River for tourists, it's a great, wide and very deep waterway. Here, deep water mixed with a current means pretty darn COLD water. Usually too cold and forbidding for most people to even touch a toe to, the river hovers between 65 and 72 degrees on a REALLY good day. My mother calls all those who are used to the chill "River Rats", but unfortunately, I am not in this club.

My parents have a little place northeast of Alex Bay, upriver from the popular vacation town. It's a modest ranch, cozy and well-thought out, with a gorgeous view of the water. They spend as much time up there as they can and rent it out for the rest of the summer. A nice dock, a hammock, fire pit, and water splashing on the rocks just 30 feet from the door all give this place a genuine appeal worthy of relaxation and fun! It sounds great, right?

Well, I think we have a raincloud over our heads. Isn't there a Peanuts character like that? Anyway, every time over the years that Mike and I have ventured up to The River, we have encountered rain. Enough rain to make it cold and drizzly and damp, enough rain to stay in the house and snuggle up, no chance for swimming or tubing or even just boating. We must have that kind of luck! Knowing this, and bringing the kids up last week, I nervously checked the weather for days beforehand, the morning of... it all looked good. We drove up the Thruway, stopping for lunch at a little grassy spot. Spreading a blanket out to let the kids stretch their legs and have a bite to eat, we were enjoying the balmy weather, the sun, the nice breeze.




Arriving at my parents' place, the weather stayed fair and we settled in. I was beginning to think our luck had turned around, that we had left the curse behind.

We took the kids out back, to where the water kissed the rocks, to ceremoniously dip their toes. They actually did great - wanting more after a few seconds. So, I started thinking, maybe the water is a little warmer than I remember? It has been a few years since we last came up. I waded in with Cole, sitting down on the ledge to put my feet in and....YIKES! Not warmer, but colder than I remember! According to my grandfather (Pa), he thought it was about 70 degrees, but I was solidly convinced that it hovered in the 40's... I left my feet in though, trying to be tough, thinking that I need to start acclimating myself for the kids' sake - they were already River Rats, 30 seconds in! It only really warmed up to refreshingly cold. My insides were freezing, all the warmth leeched out and floating downriver with the seaweed. How do they swim in this enjoyably? But the kids were having a blast, splashing and trying to pull me in further, so we decided to grab their gear and head back out soon.




We unpacked and fed the kids again (they are always eating!), and started the long process of getting them ready for the sun and the boat. Change to swim diaper, slather on sunscreen, put on lifejacket, hat and sunglasses...put on sunglasses again, find hat that was thrown on the floor...you get the idea. We headed out with the rigid babies - they hated those stiff lifejackets. Have you ever seen the movie "A Christmas Story" with Ralphie? The part where his little brother is mummified in his snowsuit, falls down into the snow and can't get back up again? It was just the same here...these little guys couldn't really move, couldn't really sit up very well, so they were pretty miserable.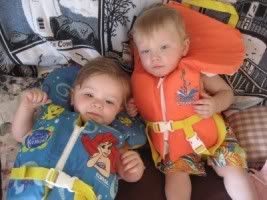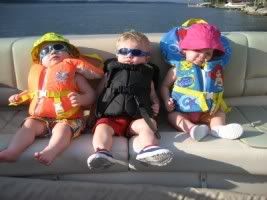 The Alex Ertel Turtle



Couple that with the blazing bright sun (go figure!) and they were ready to be done before we even started.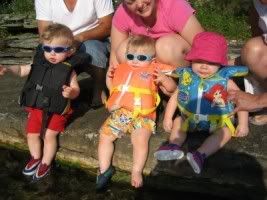 We hopped on the boat and my dad took us for a little cruise around some of the islands and into the channel.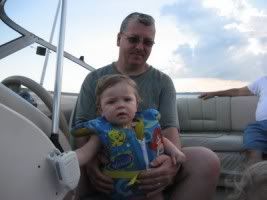 Mike took this beautiful picture of the sky as a cloud settled in on our sun. Little did we know that this was The Dreaded Raincloud that would stick with us our whole three day vacation.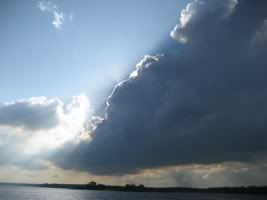 After a few more minutes, "Light Switch Braden" as we call him, flipped the switch and lost all control. He started screaming and crying and flailing - he wanted the lifejacket off, and NOW! He was on overload; the sun, the wind, the drive up...he was done for the day. So, we headed in, naively thinking we would have plenty of chances to enjoy the water over the next few days.

I was so proud of the kids - this was their first time away from home and routine and they did so great! We set up pack and plays for them to sleep in and I was a little worried that they might not be able to sleep, especially with us sleeping in the same room...but they did. I should never worry about a sleeper that is my child. My family must have a "can sleep anywhere, anytime" gene embedded into our DNA. And that worked in our favor here! They ate well, they slept well and they played well...albeit inside. The rain came in the night, stealing away all of our hopes of swimming and frolicking in the frigid water - hey, what am I complaining about? I got a free pass from freezing my patootie off! Anyway, we spent most of the time inside...and that was ok. My parents are great hosts and didn't complain once about being cooped up with the loud trio.




We ventured into Alexandria Bay on our second day, hoping to escape the rain. Instead, we drove right into it! We wanted to visit the quaint little tourist town, gawk at the big, beautiful yachts and do some trinket shopping. Best of all, we wanted to show little Alex her namesake town - even if she didn't understand yet - I wanted a picture of her next to the town's sign, I thought it would be a cute little souvenir of their first vacation...

Rain can be such a spoiler! Instead of bringing the stretch limo, we thought it would be more practical and space saving to lug the umbrella strollers instead. We have a double and a single, so we thought it might just work better. I have to have a talk with the Town Board because there were very few stores with handicap access, which meant no shopping for us. A few rickety stairs were all that were keeping us from patronizing, and I was a little miffed!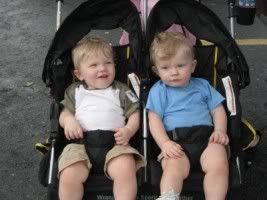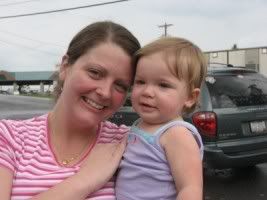 Then, it started to rain. I mean the "raining buckets" kind of rain that prevented leaving the place we were currently occupying 5 seats in. Literally, sheets of water were falling from the rooftops in a cascade that blocked the view of the street! So, we stayed put and jiggled and rocked and swayed the kids as much as we could until we were set free. They were soooooooo miserable and loud. I know that soooooo is not a word, but it's a pretty good descriptive of just how much they wanted to go home. After only a few good minutes of walking around, but a few hours of being gone, we surrendered and headed back to the cottage. No picture, no trinkets, no yachts. *sigh*

The kicker was....my mom told us that it never rained back there....all day. But it followed us back, raining into the night...

I'm starting to get a serious complex here!

The kids definitely had fun, and so did we...as long as you keep in mind that vacation for us (for a while) is just the same routine you do every day in a different, scenic venue. I can handle that...especially with this view! But this was merely a good practice run. Pray for us, dear readers...we are headed for the BIG vacation soon, heading up to the Adirondacks with Mike's family for a whole week. We're going to need all the prayers we can get!

A glimpse of Boldt Castle and their miserable faces...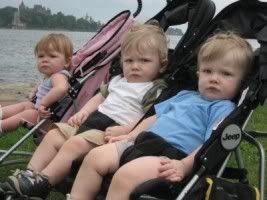 We did see this cool pirate ship!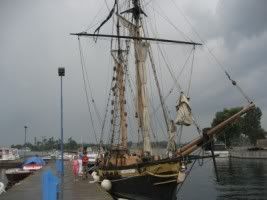 On the way home, stopping for a bite...they are NOT eating the Doritos!