Well, I have been wanting to get the few pictures I took on my mother's camera while we were visiting them on Christmas Day, since I do not have any pictures taken with our little cam while we were there.   Alex looked so cute in her red dress with furry cuffs and a big bow on her buddha belly.  Sooooo cute.  But the pics are all in a different house, on a different camera... *sigh* 
Since I haven't gotten them, these will just have to do!
Christmas morning at our house was....late.  Since we went to Midnight Mass and the kids didn't go down until about 11:30, we let them sleep in as late as they wanted to - I think they got up at noon! We ate some breakfast - another food story - Mike's parents always set us kids up with two of the best breakfast foods, ever.  Slab Bacon - for you non bacon conisseurs out there, this is the prime rib of bacon - yeah, baby!  Alex has already turned into a raving lunatic in the presence of any bacon, so this stuff was like gold.  And the other half - Almond Puff.  A pastry to die for - his mom makes the best, it melts in your mouth!  And the combination - with a wine glass full of egg nog - gotta feel sophisticated whilst introducing this much fat into your system - is simply divine. Add that to this glorious woodstove and you've got a higher power working here...  Life is good, Life is cozy.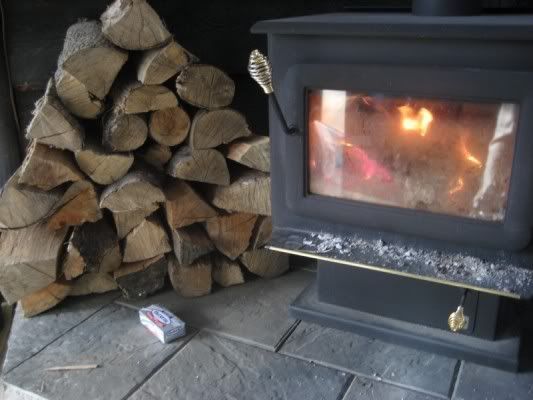 One can only handle so much of the famous and heavy (and much appreciated!) breakfast, so we ate, nibbled really, on our goodies and opened presents within a very short time.  I was popping little bits of bacon into their mouths in between them hovering over daddy for more toys!  All of this happened between 2:00 and 3:00, finally finishing in time to get dressed and leave for my parents house for dinner! But, since they
really
needed a nap, we put them down and we were
really
late for dinner. Darn schedule! We really only got there about 20 minutes late, but they were already cleaning up! Yikes! So we set the kids up in their highchairs and wolfed down our own dinner just in time for more presents.  Ah, Christmas.
Triple the Fun on Christmas Morning
Discovering the new block tower!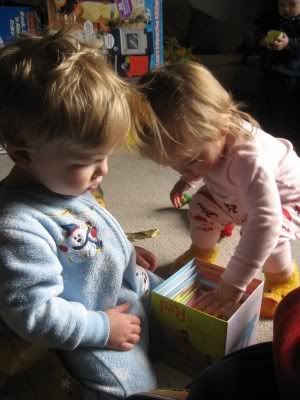 Stack it up, Daddy?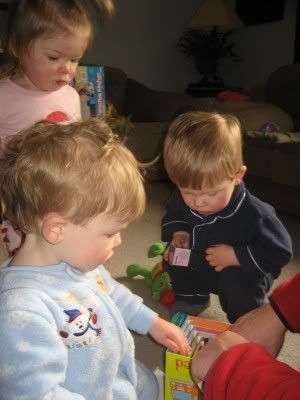 Opening the new Train!
That smile again! I think he likes it.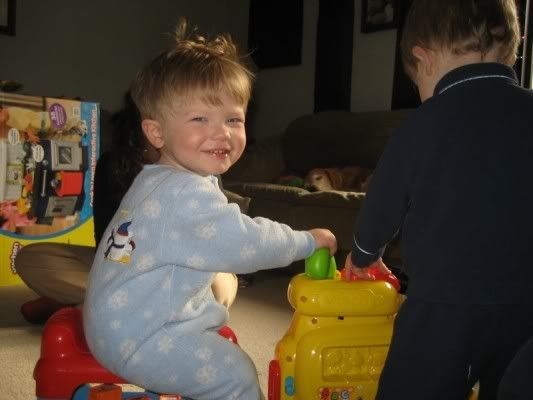 Riding double!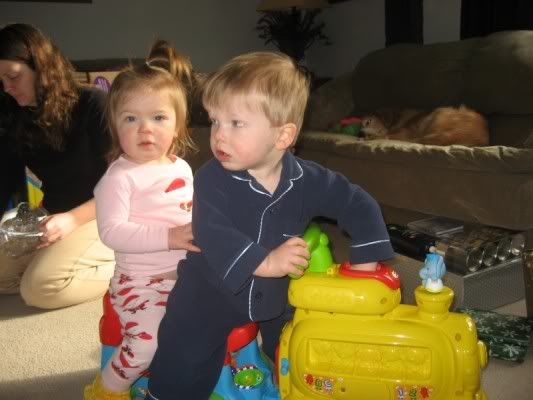 And a new fort! (Takes up way too much room *cough*)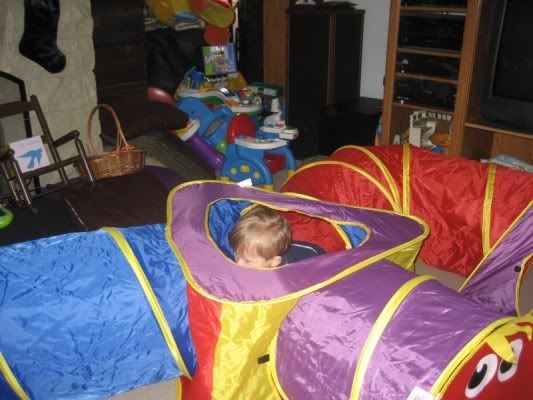 Hi, Baby Girl!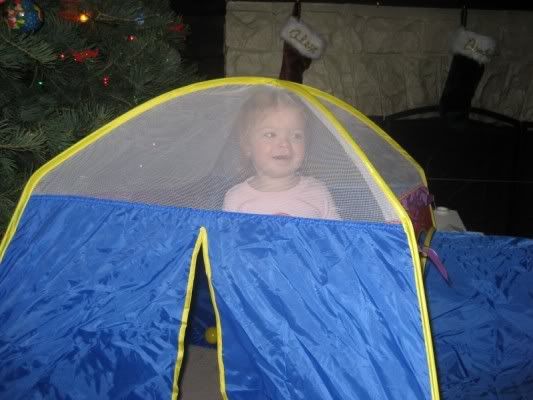 So, the train was the kids' favorite...and my favorite?  A cool new purse...with the first Twilight book tucked inside.  Nice. (Thanks Bethie!)  And Mike's....of course, it was the lightweight remote control helicopter, duh!  
Hopefully I can get those cutie pie pictures of Alex and post them before Valentine's Day.