Phew!  What a weekend.  We are so glad it's over because it was a literal race against the clock to finish.  Exhausting, stressful and frustrating!  But then it got fun.
The Ertel Family has a long-standing tradition called "Make-It/Bake-It."  You see, the object is to pick a name from the bowl (we picked at Easter last year) and think of something to either Make or Bake for that person.  Up until this year, we exchanged on Christmas Eve (when we are all already super busy), and it is a much anticipated event!  Since the last year was so hectic for us and the rest of the family didn't complain, we moved it to "Little Christmas", which is the weekend around January 6th.  And then we postponed it another week.  I think we would need just "another week" even if we had it in July.  ;)
We all usually scramble the night before, struggling to finish in time.  Procrastinators, all of us! Waiting to open the presents, the air is filled with the mingling scents of drying glue and paint and varnish and oil...it's so funny to have that evidence that projects have just been finished a mere hours before.  We all laugh knowingly and I think it's an endearing part of the tradition!
The tradition was cancelled last year and postponed until this Christmas.  And we were still working on our projects this past weekend!  
Mike had an idea for a photo transfer to canvas.  We found some interesting and "easy" instructions online and bought all of the supplies.  We had to print the pictures, flipped horizontally, on paper with an inkjet printer specifically.  Thought that part of it would be easy...but it turned out to be really difficult and pretty expensive.  If we were printing a nice quality 16x20 on photo paper through Snapfish, it would be around 14.99.  A crappy printout on paper cost us 16.00.  It's $8.00 a square foot to print on PAPER!  Stupid.  And to top it off, we couldn't find any printing places that had an inkjet printer for large format prints anymore.  We had to go to a blueprint place - a SPECIALTY store - to have it done. That's crazy.  So we ran around like crazy people for a week, collecting supplies, thinking that would be the hardest part of the journey.  BOY, were we wrong!  
I tried it first on a small 8x10, to practice and glean important tips for Mike to use on his big and important project.  It tanked miserably. No transfer and lotsa bubbles.  I was so mad!  It took all night to do it.  Ok, go on the internet and find and try a different technique.  Better, but still bad.  My poor niece's face was unrecognizable.  The ink transferred, but there were some very obvious mistakes and it was deemed ungiveable.  So, Mike perfected the technique, taking every variable out of the equation, trying his small 8x10...and the next morning (which is now Friday morning)...it still tanked.  Trying to rub the paper off, we easily rubbed the ink off too in spots that needed to be there.  It was sooooooo frustrating!  
We hated to say it, but we had to abandon all the money and time invested.  It was time for Plan B.  
On Saturday morning, 24 hours before project completion, he
started over.
 Talk about stress!  Mike hates doing this as it is - so he was ridiculously stressed out.  He came up with a great idea and after some modifications to make sure he could find the supplies that he needed he came up with his project and finished it just in time to take it with us.  Yikes!  
He ended up making these really cool metal placemats - made out of a thin sheet of aluminum, a sheet of plexiglass and then backed with a thin layer of cork.  Then, he took a drill with a wire wheel brush and brushed an amazing pattern all over the face of the metal. He polished them up and sprayed a coat of glossy clear paint over the top to finish it off.  They had a very cool, modern look!  I was so proud of him!  And, he thinks he's not creative...Pshaw!  They turned out
awesome.
My project was mostly done last year, so I was able to help him a little while I put the finishing touches on mine.  I made three stepping stones with a mosaic stained glass pattern for my mother-in-law, putting all of the grandkids' names on them and the words "Grandma's Growing Buds" with a flower bud next to each kid's name.  I was actually not stressing about finishing, which is an absolute first.  But, I did have 2 years to do it.  ;)
The exchange was fun - we had dinner and then piled in the family room, anxiously awaiting the reveal.  We started with my mother-in-law and then went from there.  So, she gave her present and then the person who received then gave, and so on.   
Mom had Marlene - she made her a beautiful Christmas wreath for their new house!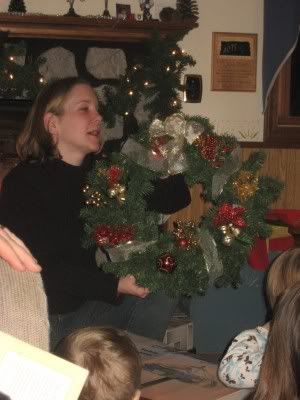 Then, she gave her a pretty gold box that when opened revealed their Grandmother's recipes, all the recipes that we adore eating.  This box was actually their grandmother's and it was filled with the cards in her handwriting - what an amazing gift, passed on.  

Marlene had Uncle Tom - she took the Bake-It option and make him this humongous basket filled with chocolate treats galore!  Chocolate covered pretzels, White Trash, caramel and chocolate coated popcorn, cookie bars - it went on and on!  It looked so good and we were all drooling...so he opened the popcorn for us to sample - it was addicting, to say the least.  
Uncle Tom had Mike - he made him a very cool and appropriate tool bench supply organizer.  He had places for all the essentials you usually just have lying around, like towels and scissors and string.  It was a great idea and something Mike could really use!  He painted it all a nice gray/blue color and thought of everything.  He even included some of the necessities!  
Mike had Kristin, and he gave her the awesome placemats - she really like them!  Everyone was trying to tell him that he has way more talent than he gives himself credit for - they all loved his work, but of course he was dwelling on the tiny imperfections only he could see - my darling perfectionist husband.  ;)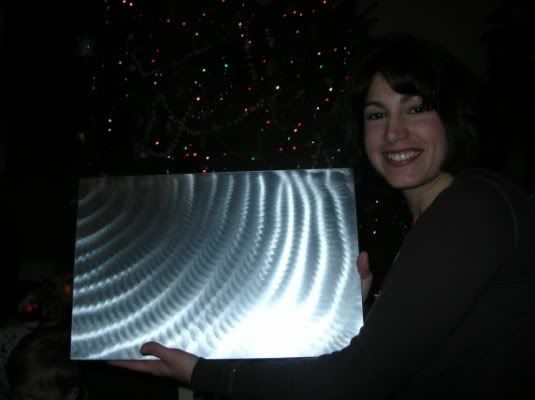 Kristin had Mary Jane - she has a business making incredible stained glass pieces and jewelry. So, she made MJ an unbelievable glass piece, a wall or window hanging - with intricate beads and slender chains and textured glass panels, all made to look vintage, which is MJ's favorite look.  It was incredible.  I couldn't get a good picture to do it justice, but believe me, we were all drooling again! It was Gorgeous with a capital G.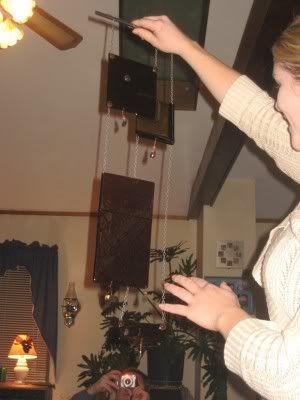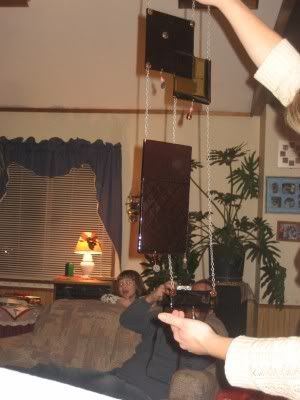 MJ had Matthew and made him this beautiful and adorable picture of their family, she mounted it on a canvas and texture painted the background and then added a Ralph Waldo Emerson quote.  It was so nice and so personal - a beautiful addition to their wall art!
Matt had me - and since this is my blog, I can go on and on about how much I loooooooooooved my gifts.  He made me, not one, not two, but THREE gifts!  I first opened an immaculate and beautifully detailed cutting board.  It is smooth, super thick and incredibly heavy!  He laser engraved two familiar quotes on each side in two different and gorgeous fonts (I am a font junkie).  The first was "We may not have it all together, but together we have it all" and then "Live Well, Laugh Often, Love Much".  It is perfectly made, absolutely stunning.  And then he gave me more - as if that wasn't enough!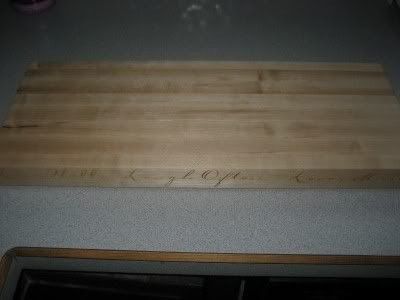 The other two gifts were something I have always wanted...
This picture shows the before - see the copper roof tiles on the wall in the background?  There are two of them and I have always wanted them framed and had asked my dad a few years ago to do it for me and he just didn't have time, so he returned them. :(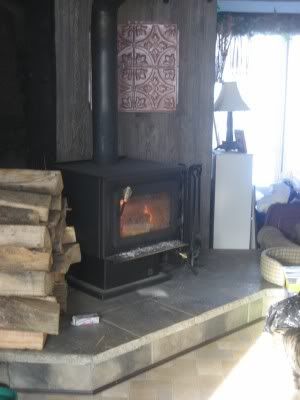 Recently, I gave up this dream and decided to just hang them as-is.  I was ok with it, even though I longed for them to be framed!  Matt knew this....so his gift was to frame them for me!  He made frames with beautiful wood from our own barn - probably super old and rough-hewn, lots of weathering.  They turned out awesome; perfectly matching what was in my head as the ideal frame for them.  They add so much to the copper and to our house!  I am pretty darn happy with my gifts - Thank you, Matt!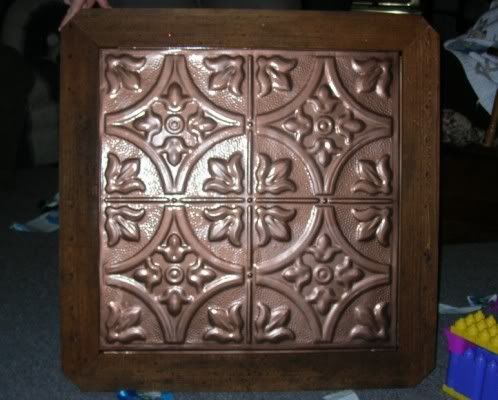 I had Mom, and made the stones for her - she loved them!  Dad handed her the box of tissues before she got them, thinking she would cry.  Too funny. Yep - that's always my goal, make someone cry.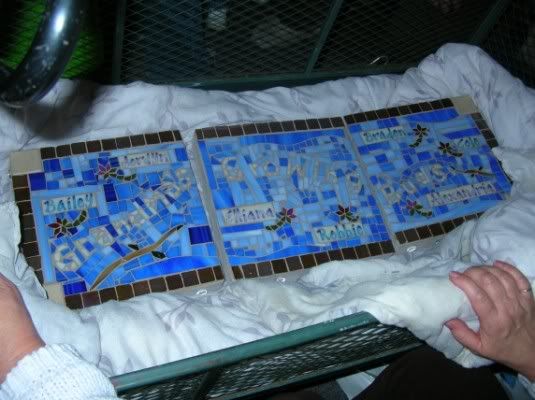 Mom had already gone, so we passed it to Dad, who had Patrick.  Dad made him a beautiful maple flower box and stuffed it full of gorgeous and interesting exotic house plants.  It turned out so simply beautiful and looked like it took a ton of work to get the sides to join.  He is one talented guy in the woodworking department!

And then....Patrick had Dad!  He made him one of those really cool personal swings you see on porches, that hang from the beams above. Usually made out of canvas, Patrick made this one out of heavy duty stretchable denim, PVC tubes and sturdy rope.  He included a pillow, a footrest and the essential beer holder pocket.  Dad loved it!    
The end.
We drew for next year already, so we have more time to fret over what we are going to make, since it will still only be done in that last week.  We'll never change!