All things still Christmas around our home and blog, I finally took a picture of the outside of our house with the lights up...something I have been wanting to do for years!  We love to decorate, inside and out because we morph into little kids at Christmas!  Ok, who am I kidding?  For people who don't drink coffee or much alcohol even, who prefer chocolate milk, pop and hot chocolate - who love to stay home (we call ourselves self-imposed hermits) and play video games all night (or, er, used to, before the kiddos) and who love to get remote control airplanes and Harry Potter books for Christmas - we were already kids to begin with...  
Then, Christmas brings out the kid in us even more so, I should say!  We literally drape the house in lights, stuff it with decorations and keep them up until April.  You think I am kidding, and some days, when we might have, say, the tax lady come to our house for the appointment in mid-February, shocked at the out-of-place decor, I am embarrassed to still be living in a Christmastown timewarp.  Though, the rest of the time, we love living in a house where our regular lights don't have to be used for months!  The glow from the thousand twinkling lights is enough to illuminate our evenings.  It is so incredibly cozy, and we love it that way - so we savor it for months. Call us crazy...and little kids who never grew up...and we would agree with you wholeheartedly.
Here's our house lights, which we keep on until January 31st - bummed to be keeping them off from then on...and hiding the fact that we are still enjoying the holiday inside the house!  There's usually more in the form of deer and pre-lit trees and more trees with lights, and light balls, etc... and also the snow is actually hiding some of the bushes - but we chose to take it easy this year - this is our "dimmed down" version, hopefully saving us some pocket change from the less used electricity.  ;)
Right in front of the house
From our curve around driveway

The view from the road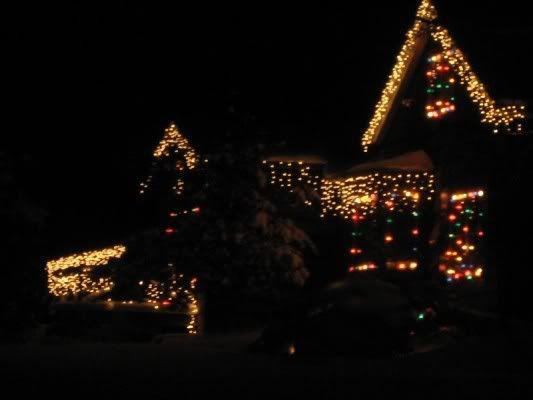 20 days and counting.............

"It is never too late to have a happy childhood."

- Claudia Black